Give Your Fireplace A New Look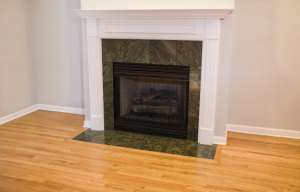 Fall is finally here and even though our temperatures still feel like summer, we all know they will become more comfortable and maybe even a little chilly soon. This will be the perfect time to light your fireplace. If you take a closer look at what is usually the focal point of every living space and find that your fireplace could use a makeover, then you should act now. The holidays will be here sooner than you think and family and friends will come over. Here are a few tips on how you can give your fireplace a new look.
Fireplace Makeover Ideas
You do not have to plan a major construction project to give your fireplace the new look you desire.  Sometimes a coat of fresh paint on unfinished or previously painted brick could do the trick.
Covering up old brick with tile can give your fire place a new fresh and clean look. Tiles come in all colors and shapes which means you can make the fireplace fit perfectly with your current decor. Most wall tile is suitable for a fireplace. Ceramic withstands heat well and is durable enough to withstand the demands of the fireplace. You may want to select a thicker tile for the fireplace for extra durability.
If would like to change the look of your possibly outdated fireplace completely, you could simply install a new mantel. Remove the old mantle. Take your measurements and head to a home improvement store or an architectural savage warehouse to find a mantel that matches your decor perfectly.
Tyson Construction: Our quality sets us apart from the competition.
Tyson Construction provides new home construction and renovation services in the Greater New Orleans Area. As a family owned and operated business, we have over twenty-four years of experience in building custom homes and home renovations. Working closely with our clients, we provide insight and advice from plan design to completion of their project. Our goal is to build excellence into each client's home through quality products, craftsmanship and expertise from start to finish.