Keep Your Home Warm This Winter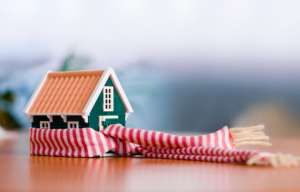 Winter is not quite here yet, but we have already had a couple of chilly days. There are a few things you can do right now that will help keep your home warm this winter without getting a huge electric bill.
Seal Leaks
Seal the air leaks around utility cut through for pipes ("plumbing penetrations"), gaps around chimneys and recessed lights in insulated ceilings, and unfinished spaces behind cupboards and closets. To get ready for winter, add caulk or weatherstripping to seal air leaks around leaky doors and windows. Also, replacing old door sweeps with new ones can make a world of a difference. To keep the cold winter air outside, you might want to use highly-sticky foam tape to weather-proof doors that may be slightly warped and don't have a true and snug fit. Furthermore, make sure your attic access is sealed as well. Keep in mind your attic might be insulated, but is your door or other form of access? As you know, heat rises and a lot of warmth could escape through an poorly insulted access point.
Take Advantage Of The Sun
While you try to block out the hot sun rays in summer, in winter, you will want to open the blinds to south-facing windows during the day to allow sunlight to naturally heat your home. Just don't forget to close them at night to reduce the chill you may feel from cold windows.
For more tips visit: https://www.energy.gov/energysaver/fall-and-winter-energy-saving-tips
Our quality sets us apart from the competition.
Tyson Construction provides new home construction and renovation services in the Greater New Orleans Area. As a family owned and operated business, we have over twenty-four years of experience in building custom homes and home renovations. Working closely with our clients, we provide insight and advice from plan design to completion of their project. Our goal is to build excellence into each client's home through quality products, craftsmanship and expertise from start to finish. We can help you get your home ready for winter.